New MASWM VP: It's All About Choice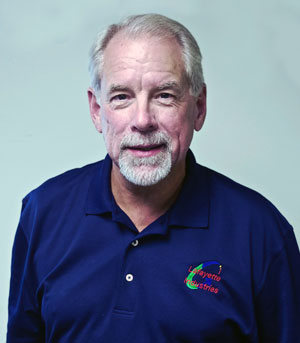 Rob Libera of Lafayette Industries sees employment choice for people with disabilities as a priority.
New MASWM Vice President Rob Libera has firsthand knowledge of the challenges facing extended employment workshops in Missouri and throughout the nation.
Executive Director of Lafayette Industries in Berkeley and Manchester near St. Louis, Rob has helped Lafayette and other workshops adapt to changes in businesses and regulations. He's navigated the shifting business demands that impact workshop contracts while facing new regulations that radically alter workshop requirements and even threaten their existence.
Nearing his 15th year as executive director, Rob is also seeing changes among those who manage Missouri's 89 workshops. "When I started, if you had 14 years of workshop experience, you were still a pup," he laughed. "Now, we have a lot of managers who are new, and the association is more important than ever."
Single-Minded Purpose
What all workshop managers share is a dedication to providing opportunities for Missourians with developmental disabilities. "It's not easy, but it's fun," he explained. "The great thing about it is that every day you go home with a sense of accomplishments. Not everyone can say that in this world."
Rob's connection to workshops began in the 1980s when he was working with a pharmaceutical manufacturing company in Illinois. Involved in production, he faced a major roadblock that the company's in-house team could not solve.
"The marketing department had come up with this idea that was highly engineered, highly specific, and we were trying to figure how in the world to do it," he recalled. "There was literally a knock on the door with a guy from this workshop in Illinois. They were trying to get more into industrial type work. So we tried them, and they did a great job."
That was 1982, and from then on, Rob partnered with workshops at every opportunity. "If there was a specialty job, we used workshops," he said. "They did great work, and it was heartwarming."
That relationship grew for nearly 20 years, then in 2004 Rob learned that longtime Lafayette Industries Manager George Schumacher had died in a car accident. The workshop, in the midst of an expansion, needed a new manager badly.
"They needed help," he recalled. And so he did.
Rob took over leadership of the organization and its two workshops serving more than 400 people with disabilities, who are a major strength of the workshops.
"Our people show up every day, and they want to work," Rob noted. "That's two advantages that are important in today's economy. We're here. We have people ready to go, today."
Businesses in the St. Louis area have noticed. "We're fortunate," Rob explained. "This is a great area for business, and we play a key part. We have great customers and clients."
Strength in Numbers
Almost as soon as he joined the workshop, Rob began working with MASWM. He volunteered to organize training programs for workshop staff, served as an area representative and other activities. One reason was the cadre of experienced managers who also sought to support workshops and those they served.
"The association helps with critical communication, with peer-to-peer training, lobbying, safety training and more," he said. "The smaller shops, especially, need help. It can be really daunting for all of us if we're alone."
Rob's background gives him a unique perspective. Born in East St. Louis, Ill., his corporate experience included stints in Pittsburgh, Philadelphia and even outside London, England. His wife, Peggy, just retired after a 41-year career with Ralston-Purina and Energizer. They have five children and are expecting their first grandchild. Ardent Cardinal fans, the couple also enjoys travel. "You should vote, and you should see your country," he explains.
Still, his thoughts are never far from Lafayette Industries and workshops throughout the country. "We've got this unique thing in Missouri called sheltered workshops, but they really are vocational work centers, and they are really unique. We've got to hang on to it and share it with the rest of the country."
With some calling for an end to workshops and their replacement by systems offering employment only at private businesses, MASWM has much work to do.
"It isn't either-or," Rob concluded. "We're part of an employment spectrum. You need to keep all of those choices for the people we serve."