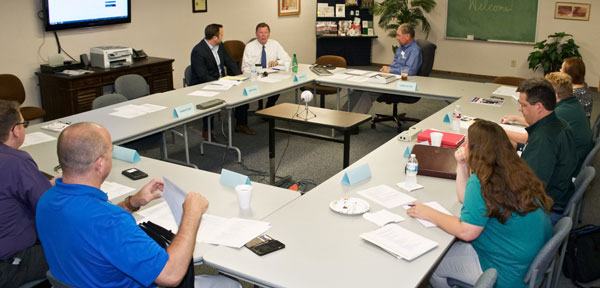 MASWM Works to Deal with
Threats Facing Workshops
Managers, workshop supporters and legislative consultants are meeting to examine options for Missouri workshops in view of several far-reaching legislative and regulatory changes.
Some issues, including the Workforce Innovation and Opportunity Act (WIOA), have the potential to close workshops nationwide. Several managers on the MASWM/ACCSES Legislative Subcommittee recently gathered at Vocational Services, Inc., in Liberty to discuss strategies. Among those present were Chair Randy Hylton, Nicki Samson, Jim Guyre, Marla Nelson, Kit Brewer, Clay Berry, and Carol Bricker. Also present were former U.S. Congressman Jon C. Porter and his son Chris Porter who operate a legislative consulting firm in Washington, D.C. Others, including MASWM President Bruce Young, joined the meeting by video conference.
Details of the meeting were carried to still another gathering May 25 in Columbia. Everyone noted the increasing importance of the special MASWM meeting tentatively scheduled for July 21-22 and several important decisions that may impact the future of workshops in Missouri and the nation.