Legislative Committee Visits DC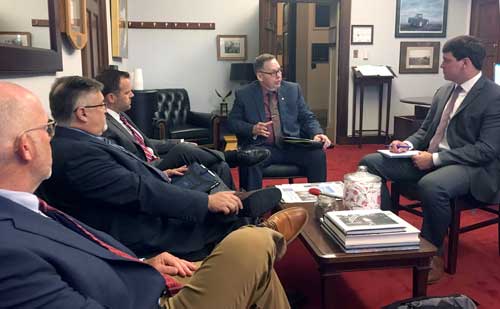 MESA Legislative Co-chairs Kit Brewer and Brian Hogan recently met with Chris Porter and Dan Mauer, along with other members of the Porter staff, as well as with legislative assistants of federal representatives involved in labor. (Photos by Cameron Gresch, Legislative Assistant for the Porter Group) See more photos.
The MASWM/MESA Legislative Community recently met with some of the nation's leaders in Washington D.C. to discuss issues of importance to Missouri's sheltered workshops and their employees.
The legislative team includes Co-chairs Kit Brewer, executive director of Mid-Mo Productivity & Packaging Specialists in Moberly, and Brian Hogan, executive director of Blue Valley Industries in Kansas City.
The June 12-14 trip was part of the team's continuing periodic visits to discuss critical issues like the 2014 WIOA and its regulations, 14(c) certification and commensurate wage usage, among many other topics.
The legislative team works with the Porter Group, a lobbying and consulting firm in Washington D.C. headed by former Congressman Jon Porter of Nevada.
Ongoing Efforts
The team meets regularly with all of our Missouri elected officials and has established wonderful working communication and relationships with these officials and their legislative staff members.
This trip had several purposes:
• To continue those relationships and conversations.
• To prepare for the upcoming third annual Missouri Day on the Hill.
• To meet with and attend an event hosted by the State Use Programs Association (SUPRA).
• To meet with Representative Glenn Grothman (R), Wisconsin 6th District, regarding HB 5658.
• To meet with Senator Elizabeth Warren (D), Massachusetts regarding her position on 14(c) certification and the use of commensurate wages.
This was our first contact with the Warren and Grothman offices.
Key Missouri Info
The team shared information that few, if any states can match: two years of data collected by Missouri's Vocational Rehabilitation (VR) Department and a letter from Assistant Commissioner Jeanne Loyd.
This information is crucial to the discussions because Missouri is a leader in WIOA compliance and is perhaps the only state able to produce two years of data on this subject. Several states have still not even begun the process. Warren was recently one of several signers to a letter requesting this type of data and is an opponent of certification and commensurate wages.