Speaking Out for Opportunity and Promoting Self-Advocacy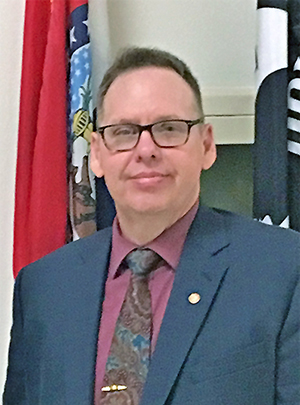 Kit Brewer volunteers as both MAWM's District V Director and as Legislative Co-Chair.
As legislative co-chair for MASWM-MESA and District 5 Director, Kit Brewer is very aware that representing thousands of Missourians with developmental disabilities is a critical job.
"I really believe in involvement," he explained. "I believe in speaking out."
One of the most challenging aspects of his work is the often-overlooked complexity of employment for people with disabilities. Issues surrounding wages are a good example. Director of Mid-Mo Productivity & Packaging Specialists (MPPS) in Moberly, he knows the issue firsthand.
"We always lose the sound bite debate," he noted. "People ask, 'Shouldn't everyone be paid minimum wage?' Clearly, the simple answer is yes. But when you look at the reality, it's not that simple."
"Commensurate wage provides for opportunity both for employment and training," he added. "It provides an opportunity for growth. And it does not limit earnings to less than minimum wage! More than a third of MPPS employees make more than minimum wage, and nearly 60 percent make minimum wage or higher on at least some of their job codes."
More Than Work
Equally important, workshops have never been "just" about jobs. Learning job skills and pride in work is important for everyone, including those with moderate to severe disabilities. A safe environment, shared with peers, socializing and other benefits are invaluable.
For nearly five years, Kit has seen that firsthand at the workshop in Moberly. Recently rebranded as Mid-Mo Productivity & Packaging Specialists (MPPS), the operation in Randolph County is working hard to broaden its economic base to ensure survival and maximum opportunity. Kit previously worked nearly four years for Boonslick Industries in Boonville as manager of that shop's recycling effort.
Kit's resume also includes experience with North American Van Lines in logistics and warehousing, work he enjoyed. But it always felt incomplete until he added non-profit efforts, He began with Feeding America as an Operations Director at Columbia and Cape Girardeau, work that included sitting on the National Operations Council and Disaster Relief Teams responding to areas stricken by hurricanes.
"From the second I got into that, the for-profit world was behind me," he explained. "To be able to be passionate for a mission and a cause is something I'll not let go of."
Hard Skills, Too
His logistics background remains important. Like many rural workshops, his faced shrinking markets and declining revenues. The response may have seemed counterintuitive: purchase of a 102,000 s.f. warehouse that served as a new workshop and provided space for lease to businesses, generating income and bringing potential business partners.
"It's a win-win for us," Kit explained. "They're tenants and then they are business partners. It generates both income and employment. It's been a major change."
Explaining all of this to legislators in Jefferson City and Washington, D.C. is not easy, even without the sometimes-rancorous environments that come with elections and political differences. Kit, who has his own opinions, stresses that his job is always to represent workshops and their employees first.
"It's our job to find consensus," he said. "And I'm most proud of that. We have a good rapport with a number of state legislators and now with federal legislators. That's critical."
Even more important is keeping employees with disabilities as the priority. "One of the huge pieces I try to bring in Randolph County is that self-advocacy voice," he said. "It's important we remember that, yes, we're an employer, but we're also an important outlet for speech and communications."
That's another reason workshops play such a critical role. He noted that Randolph County employees have made several trips to Jefferson City, where they have testified before legislators and spoken to representatives. "Building that self-confidence at a production line is the start of building self-advocacy," he said. "Who we are has more to do with that than just a job."
Outside of workshops, Kit and his family reside in Columbia. He and his wife, Samantha, have two children, both living in Columbia, daughter Zooey, 23 and son, Kieran, 19. Zooey is a graduate of Knox College, Galesburg, Ill., in Political Science. Kieran is a Hickman High School graduate.