Meeting Held On Workshop Rest Area Services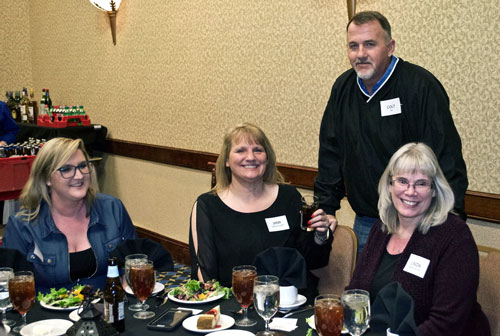 Representatives of Missouri workshops providing maintenance at rest areas and other locations and DBI Services met Jan. 29 in Jefferson City. DBI administers services at rest areas and other facilities for the Missouri Department of Transportation.
One of the highlights of the January MASWM meeting in Jefferson City was a dinner hosted by the company hired by the Missouri Department of Transportation (MoDOT) to oversee rest area maintenance services.
The firm, DBi Services, hosted a dinner for Missouri workshops that subcontract with them to provide janitorial and maintenance services for Missouri rest areas, truck parking facilities and welcome centers. The gathering was Jan. 29 at the Capital Plaza Hotel in Jefferson City. 
During this meeting, DBi thanked the workshops for their dedication and hard work and expressed their continued commitment to working with Missouri workshops. 
The DBi Executive team met with the workshops and answered questions.  It is their hope to be able to continue to develop positive relationships, improved communication, and feedback over the coming months.  To show their commitment, DBi will be awarding contracts to workshops that run concurrent to DBi's contract. 
Additionally, Colton Herndon will be meeting with individual partner workshops over the next month or so to discuss the potential of further revenue earning possibilities through additional work. Lastly, DBi will be working with workshops to develop a scorecard that will outline more specific standards and lead to the development of an award system for workshops that meet or exceed those standards. 
DBi looks forward to a lasting relationship with MoDOT and workshops to provide make Missouri rest stops, truck parking facilities and welcome centers, clean, safe, and convenient!