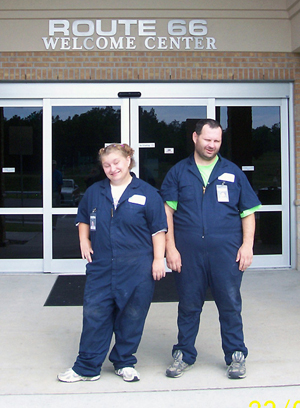 A recent study showed that workshop employees who help maintain highway rest stops like this Route 66 Welcome Center are in the top two groups for interaction with motorists traveling in Missouri.
Workshop Employees at Forefront of Motorist Contacts
The successful rest-area maintenance program conducted by several Missouri workshops has more impact than simply keeping several rest areas clean.
Recent information showed that, while traveling in Missouri, the most likely interaction a motorist will have is the following:
1. Clerk, gas station or travel center
2. Rest-area attendant
3. Food server, waitress or cashier (fast food)
4. Missouri State Highway Patrol (trooper, weight station)
5. Motel clerk
6. Attraction attendant
7. Retail store clerk
8. Mechanic, including emergency roadside assistance
"The Interstate Traveler," a trade publication for the nation's transportation agencies, published the information. Several managers and Workshop Division Director Dan Gier expressed pride in these statistics. Yes, workshop employees are number two!
Lafayette Industries Manager Rob Libera put it this way, "When traveling in Missouri, it's likely that the only employed person with a developmental disability that a traveler will encounter is a person employed through the Missouri Extended Employment Sheltered Workshop program."



---
Return to News Page | Return to Newsletter