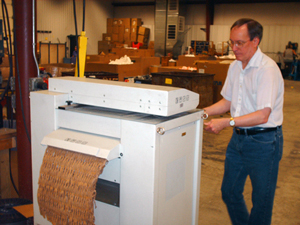 Workshop services provide employment for Missourians and valuable services for local communities.
Survey Shows Many Workers Referred to Competitive Jobs
An interesting sidelight to a report by the Department of Elementary and Secondary Education Division of Sheltered Workshops showed the number of employees referred to competitive jobs.
The survey was taken in March 2009 to determine the amount of referral activity from Extended Employment/Sheltered Workshops to community based, competitive employment. There were 90 responding Workshop corporations out of a total of 93. The requested data is for a period of two years (2007/2008).
Of the more than 8,000 workshop employees statewide, 330 or four percent were newly placed in competitive jobs during the period. Of those, 121 (37 percent) returned to the sheltered workshop while 142 (43 percent) stayed in their competitive employment. Sixty-nine (21 percent) lost contact with the workshops.
In relaying the information, Sheltered Workshop Division Director Fulvio Franzi noted the information indicates that the Extended Employment Sheltered Workshops are active in referring employees to other appropriate employment options by working cooperatively with local agencies and employers. He said an area needing further research is to identify means to reduce the "lost contact" percentage by working with agencies that conduct employment referral/follow up services.
Latest Info | Workshop Directory | What We Offer | MASWM Home
MASWM The Missouri Association of Sheltered Workshop Managers
If you have questions regarding the Missouri Association of Sheltered Workshop Managers, please contact:
Legislative Chair Randy Hylton: Phone (816) 781-6292 or E-mail rhylton@vsiserve.org
President Brent Blackwell: Phone: (660) 542-1401 Fax: (660) 542-1688; E-mail: bblackwell@ctcis.net