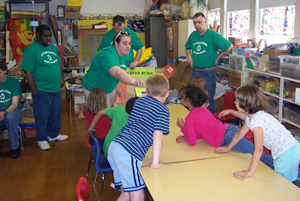 Earth Day drew many visitors to workshops in Missouri.
Recycling Efforts by Workshops Cover Missouri
Boonslick Industries Inc. of Booneville has found that recycling has many positives. It created 44 jobs for BII workers with disabilities, kept 1.8 million pounds of paper, cardboard and textiles out of landfills and saved local businesses and households, saved $39,000 in dump fees in 2008. The workshop is on track to process two million pounds in 2009! The challenging part has been the drop in price this year, to one-third of the amount that was taken in last year in sales of the commodities.
Workshop leaders C.J. Welch and Vicki McCarrell report that BII has been notified it has been approved for a $55,200 grant from Mid Missouri Solid Waste District, Region H, for another horizontal baler. Last year BII received $44,800 in grants from Mid Mo Solid Waste for a conveyor belt and bins, and a $4,775 grant for a can crusher and bins.
BII processed 1.8 million pounds of paper, cardboard and textiles in 2008 and is on track to process 2 million pounds in 2009.
On April 24, BII celebrated Earth Day by holding an open house for the community to visit our recycling program and some staff and clients gave a presentation to students at Central Elementary School in Boonville.
On Friday, April 24 Boonslick Industries Inc. held an open house for people to visit our recycling program. Several schools brought students to tour and learn more about recycling. Some of the staff and clients from the day program visited a local elementary school that day and did a presentation on recycling.
————————
Foundation Workshop, Inc. of Grandview opened FWI Community Recycling in November, 2008. The center has given FWI a way to expand community employment opportunities and help the environment of the community by diverting waste from local landfills. FWI Community Recycling is the first recycling center Grandview has had. Beside drop-offs, employees take a box truck on commercial pick-ups throughout Grandview and South Kansas City.
————————
Laclede Industries in Lebanon has been very busy lately. The workshop's recycling program is going strong, even through the economic slumps.
Office manager Laura Johnson reported that Laclede is currently collecting plastic No. 1 and 2, paper (including office paper, magazines, and newspaper), tin cans, aluminum cans, cardboard, clothing (including shoes and purses), and glass.
Laclede has been the recycling facility for the city of Lebanon since July 2006. In 2008, they sold approximately two million pounds of recycled materials. This year they have sold close to 1.2 million pounds of recycled materials.
————————
The Monroe City Sheltered Workshop began their recycling in 1995 with a small vertical baler. The baling was done outside on a concrete slab in snow, rain and occasionally good weather. The route consisted of Monroe City businesses and a pen was set up outside the workshop for the public to drop off recycling.
But soon the idea of recycling was catching on and it became necessary to expand. In 2004 a new recycling building was built and was dedicated to processing recycling only. A grant helped to purchase a new horizontal baler.
The routes grew to include Monroe City, as well as Paris, Shelbina, Perry, New London, Palmyra and Hannibal.
Things were moving along pretty well with recycling until March 12, 2006 when a tornado came through Monroe City and completely destroyed the recycling building and another building belonging to the Workshop. With many dedicated individuals from local, state and the federal level, June 2008 saw a new 35,000 square foot building dedicated on a new site in an industrial area.
The building was built with the idea of making recycling easier to process. The drop off for the recycled items, which is located outside the building, is used continually 24-7 by the public.
The workshop now has three balers, which bale cardboard, plastic, aluminum, paper, metals and clothing. With two recent grants the Workshop is expanding to do shredding and composting. Many tons of waste has been eliminated from going to the landfills since the start of recycling by the Monroe City Sheltered Workshop.
————————
For the past year, Project, Inc. in St. Louis has been seriously involved in recycling fluorescent, sodium/mercury vapor, halogen lamps and ballast.
By advertising in the St. Louis Post Dispatch both residential and commercial customers have learned about the opportunity to properly dispose of mercury containing lamps. HTR in Lake of Ozarks reclaims all the waste from the lamps. The elemental mercury and phosphorous are sold into the metals market, glass is recycled into many products as are the metal ballast. None of the components enters a landfill. The St. Louis Zoo is one of the many notable customers that Project serves along with many of its business base customers.
One of the challenges is educating customers that the service is not free. Unlike recycling aluminum cans where the product has value to the recycler, fluorescent lamp recycling costs money. Any profit comes from the fee charged to the customer who recycles the lamps. Also, teaching commercial accounts about Missouri law comes with its interesting moments, too. But with the EPA dumpster diving these days, commercial accounts run a great risk in trashing the lamps.
Making the process easy for customers is also part of the selling cycle. Project, Inc. owns a 24-foot box truck that makes scheduling pick-ups easy. HTR provides the storage boxes free of charge as long as they are recycled with them. The customer can safely accumulate lamps for routine pick-up or delivery to Project. Project then holds the lamps until 2000 are accumulated for HTR to pick up. Certificates of recycling are also available at the customer's request.
————————
Tantone Industries, Inc. in Branson received a Green Initiative Award for initiating and assisting recycling opportunities in the Tri-Lakes Business Community. They received the award on April 24 from the Mayor of Branson, Mayor Rae Anne Presley.
General Manager John Cox noted that Tantone purchased a box truck last September. They collect paper and cardboard from local businesses. Along with other benefits, this has helped to make them known in the community. Tantone collects approximately eight to 10 tons of paper a month that would have gone to the landfill!
Tantone also has a contract with the City of Branson to supply people to work at the City Recycling Center. This has gone very well over the last six months. It employs four people 12 hours per week! The workers with disabilities love being out in the community and the community loves the service they provide.
Community involvement has been notable as well. Tantone had two community partners in this effort ,and they have their graphic on the truck.
————————
As of July 1, 2009, Web-Co Custom Industries in Marshfield will be taking over the Warren Beck Memorial Recycling Center in Marshfield. The workshop's area of pick-up will encompass all of Webster County.
This development is an opportunity for growth in the community and hopefully new placement of certified employees waiting to be hired. Web-Co would like to see an increase of an additional 50 percent in revenue by next year with the extended hours of operation, which will be 8 a.m. to 4 p.m. Monday through Friday, and from 10 a.m. to 4 p.m. on Saturdays. They hope to encourage the Webster County citizens to utilize the center more frequently in an effort to be "Green" and this will give our certified employees an opportunity also to interact with members in the community.
State finds 34 workshops offer recycling services.
One Workshop's Success with Recycling