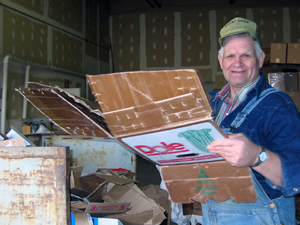 Recycling at Boonslick Industries is just one of many "green" efforts by workshops around Missouri.
Recycling Efforts by Workshops Cover Missouri
Some 34 workshops in Missouri are currently involved in recycling a variety of products. A recent study in fact showed that these workshops recycled an estimate 18,682 tons of material in 2008 alone!
Fulvio Franzi, director of the Sheltered Workshop Division for the Missouri Department of Elementary and Secondary Education, recently completed an eye-opening survey of recycling efforts. Along with the impressive material totals, he also found that the work helps employ some 500 of the state's people with disabilities, providing an important and increasing opportunity for workers statewide.
Other results from Franzi provided critical details. Currently, 34 Sheltered Workshops conduct a variety of recycling operations; in order of volume, in the past calendar year they are:
Corrugated 6,778.0 Tons
Textile 6,118.3 Tons
Office Paper 2,692.6 Tons
Newsprint 1,681.1 Tons
Plastic 571.5 Tons
Metal (ferrous) 351.9 Tons
Wood 337.9 Tons
Aluminum 151.2 Tons
Total 18,682.5 Tons
Development of such "new" business is important for workshops because less than 25 percent of workshop revenue comes from the state to offset the cost of additional supervision and overhead costs related to the employment effort of persons with disabilities. The workshops must rely on the balance of their operating funds from contract work obtained from private industries or public entities. As Franzi noted, "…they are examples of industrial/business models to support the mission of employment opportunities for persons with disabilities." They employ more than 8,000 persons with disabilities as well as nearly 800 administrative, supervisory and support personnel.
In FY-08, Sheltered Workshops produced nearly $75 million in contract revenues against a $21 million state investment (nearly a 4:1 return). Recycling represented approximately 10 percent of contract revenues.
The recycling efforts are conducted as stand-alone operations, private/public (municipal) contracts or a combination of both.
The current depressed markets for recyclables has caused several operations to pare back the operations since the payroll and overhead burden is greater that the income and storage capacity is strained to its limits. As income from recyclables increase, many of the operations plan to return to, or expand, their efforts.
See article on individual workshop recycling efforts.
One Workshop's Success with Recycling
Latest Info | Workshop Directory | What We Offer | MASWM Home
MASWM The Missouri Association of Sheltered Workshop Managers
If you have questions regarding the Missouri Association of Sheltered Workshop Managers, please contact:
Legislative Chair Randy Hylton: Phone (816) 781-6292 or E-mail rhylton@vsiserve.org
President Brent Blackwell: Phone: (660) 542-1401 Fax: (660) 542-1688; E-mail: bblackwell@ctcis.net